Service Dogs in the Pandemic – Part One
by Beth
It's been months since I've been able to share stories with you here on the Easterseals blog about the questions little kids ask about working with Luna, my Seeing Eye dog. School closures this year means our presentations to students were cancelled, too. I miss them!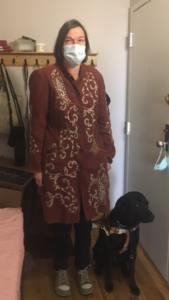 Big kids to the rescue! The memoir-writing classes I lead for older adults have been meeting via Zoom, and here's a sampling of questions writers in those classes have been asking me lately, along with some answers:
Did Luna notice that Mike was starting to feel sick? My husband Mike was sick at home with COVID 19 in Mid-March, and as he likes to say now, he and I had established "separate kingdoms" at home during the week he was sick here. I slept on a pull-out bed in my office, his kingdom was our bedroom, and as his illness continued to get worse, he spent days and nights in bed there with the door closed. And yes, Luna missed him.I didn't want to be far from home during that time, so I donned a mask, wore disposable surgical gloves, and kept Luna's walks very routine. And short. Boring for her, and she expressed her ennui by lying flat on her stomach with her chin on the floor.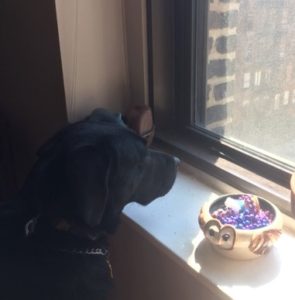 After Mike was admitted to the hospital, do you think Luna knew he was gone? Yes. Mike was in the hospital seven days in March with COVID 19, and before he was allowed to come home he had to spend three additional COVID-free days in a Chicago hotel designated for patients recovering from the virus. During those ten days, I kept the door to his kingdom closed tight for fear of being exposed to the virus. . Luna started looking out the window hoping to find him somewhere out there.
How's Mike doing now that he's home?He's still recovering, gaining strength every day and playing lots of games of catch with Luna.
So Luna likes to play? Yes! When their harnesses are off, it's good for Seeing Eye dogs to play and relax. Dog parks in our area are closed right now, so Luna is left to chase her ball and Nylabones around the house. Mike throws a ball better than I do, see above about her searching out the window for him while he was away.
Was it hard to take care of Luna when Mike was in the hospital and you were all alone with her? The Seeing Eye trains all of its graduates to care for our dogs on our own, whether we live alone or with others. It's dark when she goes for her last outing of the day, and for safety's sake here in the city he usually takes her out for that final "empty." Without him here, I donned a mask for Luna's nightly walk and, assuming bad guys are staying home during the pandemic, I wasn't scared.
Does your dog get confused when you wear a mask? Well, she doesn't balk if I'm wearing the mask and call her to come, and she follows my commands en route, which means she can hear my muffled voice through the mask. Her sense of smell is wayyyyyyyyy stronger than her sense of sight or sound, so if anything is confusing her right now, it's my aroma: I didn't used to wash my hands every 20 minutes!
Was Luna a comfort to you while Mike was sick? Luna was a tremendous comfort to me throughout Mike's illness. She's a good listener.
Stay tuned for Part Two, when I'll talk more about what sheltering in place with Luna is like now, with Mike home and things back to normal –whatever that is!