The Nora Project Connects Students With and Without Disabilities
by Beth
My Seeing Eye dogs and I have visited dozens of elementary schools over the years that pair average kids with students who have disabilities in "buddy" programs. The school Whitney and I are visiting today takes that idea one step further.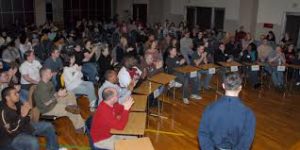 At Glen Grove Elementary in Glenview, Illinois, students are paired with a fellow student who has a disability, but then these fifth-graders interview family members and others who spend time outside of school with their "buddy," too. The students use iPads to record video of those interviews, and by combining them with video of their own interactions with their buddies, they create documentaries presented at the end of the school year.
The idea is the brain child of Glen Grove fifth-grade teacher Amanda Martinsen, who was awarded a Human and Civil Rights Award from the Illinois Education Association for a project the IEA described as "life-changing for students with conditions that sometimes make it difficult for them to connect with others." A story from the Chicago Tribune explains:
"The Nora Project grew out of Martinsen's concern that students like her cousin's daughter who have Down syndrome, cerebral palsy, autism and a host of other medical conditions often experience difficulty making connections and friendships with other students in school.

Martinsen said she agreed that the project has been "life-changing" for many students, but not just those with special needs.

'The change we've seen from students is they're so much more aware of kids with special needs that are different from them,' she said. 'They are so much more accepting.'

One student said she had heard the term Down syndrome, but didn't know what it was, Martinsen said.

'She said she never thought she would have been friends with someone with Down syndrome, and now she is,' she said. 'I see them interacting with many kids. They're high-fiving each other, asking how their day is.'"
As for me, I've been asked to come to Glen Grove Wednesday to share tips on using respectful language and appropriate questions during the interviews they'll be doing with their buddy's family members and friends. I'll tell you one thing: I'm pretty sure I'll learn more from these fifth graders and their buddies than they will from me!
Mrs. Martinsen's award-winning project is named for her niece, Nora. To learn more about the Nora Project, visit thenoraproject.ngo. Documentaries produced by the students are available there under the Nora Friends tab.